Larkhall & District Volunteer Group (LDVG) have been supporting our local community since Sept 1994.  In March we had to close our building, but since then we have been working hard to continue to support our community.  We adapted our call line service to ensure we could continue to run it, including extending it over 7 days. 
This service links in with other support being offered in the area, with staff advocating on behalf of members to ensure needs are met.  These calls have more than doubled to over 500 calls a week, with the addition of welfare calls for those who have found the lockdown particularly challenging.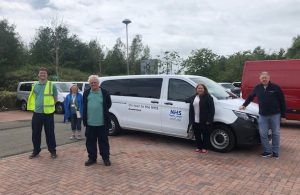 LDVG have been working with Heart of Africa UK who have been producing close to 100 meals a day from the LDVG kitchen for members of the community, with priority for those who are shielding.  We have supported them by promoting their service, supplying 2 minibuses with drivers for deliveries and accessing volunteers from the COVID-19 Rainbows group.
From 25th May, LDVG have been supporting our local NHS Distribution Centre by providing
Volunteer drivers to drive key workers to their workplace.  These drivers are covering 2 different shift patterns and are playing a key part in supporting the NHS.
LDVG are actively involved with the COVID-19 Rainbows Larkhall community group who support the community in Larkhall and surrounding villages.  LDVG led a funding bid to secure over £81,000 from the Supporting Communities fund to support this work.  This is a partnership of local organisations including Larkhall Community Growers, Larkhall Christians Together, Community Links, Larkhall Community Council, Larkhall TOA taxis, VASLan and community members.  The group:
host weekly Zoom meetings to coordinate support,
run a Facebook page, WhatsApp group and messenger service to coordinate support,
link with South Lanarkshire Council,
update 4 local elected members,
coordinate local volunteer support,
organise food parcel deliveries, supplementing them with useful items,
supply activity packs (children and adults),
provide prescription deliveries,
collect food donations,
organise food shopping/deliveries,
distribute information leaflets to the community,
offer other support as and when needed.
More info available at www.ldvg.org.uk or https://www.facebook.com/groups/larkhallrainbows
(Update provided by Larkhall & District Voluntary Group)