Sanctuary Scotland has received nearly £100,000 to support communities through the Covid-19 pandemic. The social housing provider has been awarded £96,000 by the Scottish Government to ensure essential services are available to vulnerable people and those isolated or shielding.
This includes the provision of food and medicines as well as wellbeing support and activity packs for children who are unable to attend school.
The grant is part of the £350 million Supporting Communities Fund which is being managed by the Scottish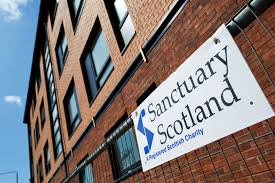 Federation of Housing Associations to assist in the country's Covid-19 response effort.
Sanctuary Scotland, which manages more than 7,000 homes, will work with its partner organisations to support communities in Aberdeenshire, Dundee, Glasgow, Cumbernauld and Renfrewshire.
Among these are the Salvation Army, Trussell Trust, Ardler Village Trust, The Pyramid at Anderston, Cumbernauld Action on Care for the Elderly (CACE), Donside SCIO and the Cumbernauld Resilience Group.
Anthony Morrow, Community Development Officer, said: "Together with our partners, we work with some of those most affected by the pandemic, for whom essentials such as food or even a friendly face to talk to are not a given.
"This grant will make such an important difference to the lives of many people at this challenging time and we are delighted that it has been awarded to us."
Sanctuary Group was established in 1969 and is responsible for the provision of social housing, care and management services across England and Scotland. It owns or operates over 100,000 units of accommodation and employs more than 13,000 people.
The Group operates under a not-for-profit umbrella, with surpluses reinvested into the provision of affordable housing, the maintenance of existing properties, and the development of new services for customers.
Sanctuary is an exempt charity under the Charities Act 1993 and is regulated by the Regulator of Social Housing.
Sanctuary Scotland, a member of Sanctuary Group, was established in 1996. The Association – a registered charity – operates in nine local authority areas in Scotland and manages more than 7,000 homes.
Follow @WeAreSanctuary on Twitter for the latest news from the Group.
(Update provided by Sanctuary Scotland)