SURF – Scotland's Regeneration Forum is delighted to announce that Peterhead has joined its national regeneration programme.
SURF has appointed Linda Hendry as Local Facilitator, to lead on activities designed to improve Peterhead town centre for residents, workers and visitors.
As a national charity that promotes the regeneration of places with social and economic challenges,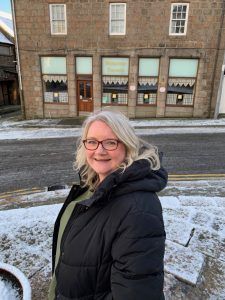 SURF operates an 'Alliance for Action' programme. The programme has been running since 2013 and is funded by the Scottish Government. It has supported local communities in diverse places including Dunoon (Argyll), Langholm (Dumfries & Galloway) and Govan (Glasgow), to progress their regeneration plans and aspirations into tangible improvements.
The part-time Peterhead Facilitator post is initially funded for two years. In the new role, Linda will help support local partners in the development of a range of practical regeneration activity. Following a number of consultation activities over the last few years, including those incorporated into Peterhead Development Partnership Vision and Action Plan, SURF will support enhanced collaboration on locally identified priorities, and strengthen links between Peterhead's challenges and assets to wider regeneration policy and resources.
Linda will take up the position today (Monday 16 January). Linda has a wealth of knowledge and experience of the regeneration context in Peterhead and Aberdeenshire. Linda was previously Business Improvement District Manager for Rediscover Peterhead. From 2017-22, she worked in a range of relevant roles for Aberdeenshire Council, including as Area Project Officer, and has volunteer experience as Chair of a Community Council.
Derek Rankine, SURF Policy Manager, said: "We were pleased with Linda's interest in the post and her strong appetite for supporting positive change in Peterhead town centre. The recruitment panel was impressed with the depth of Linda's track record in project management, community engagement, cross-sector partnership working, and town centre regeneration. Linda will hit the ground running with a particularly strong knowledge of local players and dynamics, and will bring high level of enthusiasm to the role. My SURF colleagues and I look forward to working with her."
Derek added: "We have developed a strong track record from our other Alliance for Action sites, in unlocking potential and overcoming the barriers that can prevent regeneration activity from proceeding, from an apparently modest part-time resource. Our new Peterhead Facilitator will provide a wide range of services, from general advice and guidance, to specific support on project development, fundraising, and partnership working, all of which is tightly focused on locally identified priorities for revitalising the town centre. Linda will work closely with local community groups, businesses, charities and with Aberdeenshire Council, and will receive ongoing support from the core SURF staff team, based in Glasgow and Edinburgh."
Linda Hendry said: "I am really looking forward to starting in my new role, and working closely with local partners to expand on regeneration activity, by utilising my skills and experience. Peterhead town centre has so much potential. I look forward to working closely with partners and stakeholders on projects that have been identified locally, and supporting their progress for the benefit of the town. A lot of consultation activity has happened in the past and I look forward to helping develop this into practical outcomes that improve the town centre."
Mark Morgan, local community volunteer, recruitment panelist for the new SURF role, and European Director for Stella's Voice, said: "The appointment of Linda and the support of SURF is a great catalyst for Peterhead at the start of 2023 to engage with local groups and help cultivate partnerships that will help identify the opportunities and develop a culture of co-operation between those involved to overcome local challenges and bring about tangible, credible and lasting change for good in our community."
Cllr. Dianne Beagrie, Buchan Area Committee Chair in Aberdeenshire Council, said: "On behalf of Buchan Area Committee and Aberdeenshire Council, I am pleased to welcome Linda to her new role with SURF in Peterhead. Joining the Alliance for Action programme is recognition of the potential of the town's community groups to lead regeneration efforts. We look forward to working with Linda and the SURF team, along with community partners, in a collective effort to bring real impact to the town centre."
In the coming weeks, Linda will be engaging with Peterhead stakeholders to discuss the nature of support that SURF can most usefully offer to local groups. That support will be informed by recent community consultations, which identified vacant and derelict buildings, anti-social behaviour, and limited social and economic opportunities for young people, among priority action areas. SURF is also aware of the strong local desire to do more to improve pride of place in the town centre, and to attract and retain visitors.
SURF will establish a Peterhead stakeholders mailing list, and provide regular activity updates on local Alliance for Action programme developments. If you would like to be added to this mailing list, please email Linda at linda@surf-old.local.